PRESENTING:
THE ZOWWIES
THE ZOWWIES ARE A GROUP OF RADICAL MUSICIANS PERSUING THEIR ROCK'N'ROLL DREAMS , WITH A YOUTHFUL APPROACH TO SURMOUNT THE OVERBEARING ODDS OF SURVIVAL AS ROCK'N'ROLL ICONS. MEET THE BAND BELOW!
MEET STEVE... NICE GUY, LIKABLE CHARACTER, BUT A LITTLE VOLATILE.. FORTUNATELY THE REST OF THE GROUP ALLOW HIM THE FREEDOM TO EXPRESS HIS INNERMOST HYPERTENSIVE NATURE.. LEAD SINGER. PLAYS WITH EXPLOSIVES.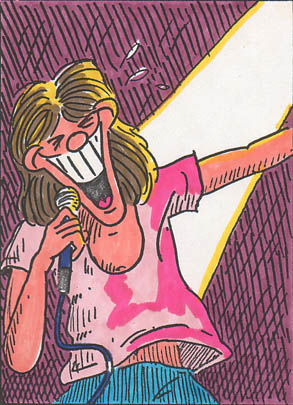 BARRY IS A HIPPY TYPE INTELLECTUAL INTO PHARMACEUTICALS AND THE TAO. THOUGH HE HAS THE ATTENTION SPAN OF A GYPSY MOTH, HE PLAYS AN IMPORTANT ROLE BALANCING OUT THE CHEMISTRY BETWEEN BAND MEMBERS, AS WELL AS HIS OWN BRAIN CELLS. HE IS THE ZEN BASSIST . EXPERIMENTS IN ALTERED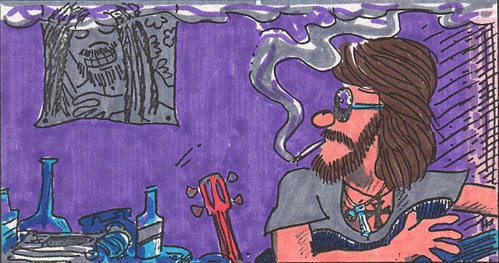 STATES.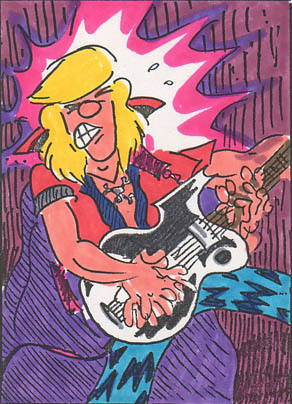 ANDY IS OPEN TO DIFFERENT POINTS OF VIEW, AS LONG AS THEY ARE HIS. HE ENJOYS OUTRAGEOUS STUNTS AND SENSELESS ANTICS, MUCH TO THE ENCOURAGEMENT OF STEVE.. THE TWO OF THEM TRANSFORM ANY STAGE INTO A DANGEROUSLY BIZARRE SPORTING EVENT. LEAD GUITARIST. STILL TRYING TO PLAY USING HIS TOES.
PABLO IS THE BAND'S ONLY GLIMMER OF COMMON SENSE AND RESPONSIBILITY. HE IS OFTEN EXPLAINING THEIR WAY OUT OF EVERYTHING IN A STRUGGLE TO MAKE THE REST OF THE GROUP'S BEHAVIOR SEEM PERFECTLY REAS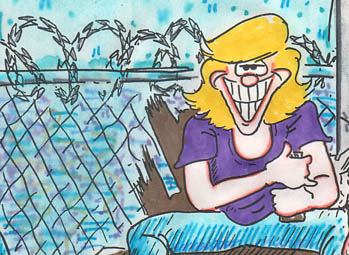 ONABLE.. HE IS ANDY'S TWIN BROTHER, THOUGH HE WILL TELL YOU ANDY WAS A LAB EXPERIMENT. KEYBOARDIST. FAKES NERVOUS BREAKDOWNS.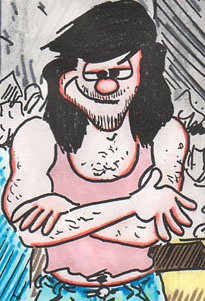 ALEX... SMART ASS ATTITUDE, SUDDEN FITS OF RAGE, AND A TOTAL DISREGARD FOR COMMON COURTESY HAS MADE THIS MANIAC DRUMMER A WANTED MAN IN SEVERAL STATES AND PROVINCES. HE IS WORKING ON CHANNELING HIS DESTRUCTIVE TENDENCIES TOWARDS POSITIVE RESULTS. ONE OF HIS RECENT HUMANITARIAN PROJECTS INCLUDES A BOOK ON THE TOP 10 INSTITUTIONS TO STAY AT.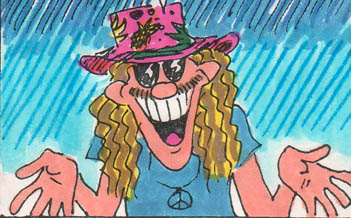 at last let us not forget flip. being the band's travel engineer and roady is the first thing anyone has trusted him with. flip sacrificed his dreams of becoming a professional criminal for the more noble act of getting these misfits to their next engagement, whatever and wherever it may be..
the zowwies were first created many years ago by cartoonist andrew bearce.. several years were spent writing and illustrating the on going adventures of these characters. now they are publicly exposed here for the first time ever. if this crazy band of hooligans gain popularity, we may be seeing more of them.
see more of THE ZOWWIES!
more cartoons and illustrations!