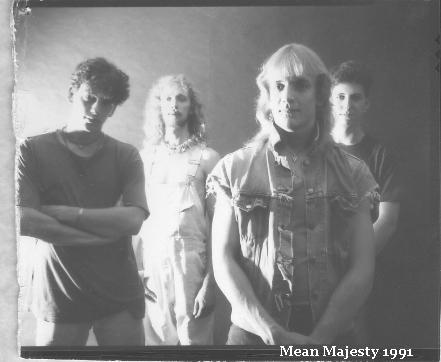 It all started when...

As a child, Andrew sang and played all the instruments he could get his hands on, including saxophone, piano, keyboards, drums and various percussion instruments. By high school, Andrew was participating in rock and jazz bands while polishing his techniques and earning awards for his outstanding saxophone performances. The unique creative direction of Andrew's musical talents truly began blossoming after forming a band known as Mean Majesty, during his college years at Pratt Institute School of art and Design in 1990. Andrew's progressive rock influence blended with the folk-rock influences of the two additional members. the trio consisted of Andrew's vocals, keyboards and sax leads, along with acoustic guitars, fiddle and various string instruments. Mean Majesty, with it's unique sound and following of loyal fans, performed at many parties, events, bars and clubs in Brooklyn and Manhattan between 1990 and '91. After enjoying a taste of popularity and fanfare from an intense year of live performances, the members of the band soon graduated and went their separate ways.
Andrew graduated with a degree in Fine Arts, a minor in film, and a craving for more performing experiences. He continued performing solo or ensemble with several local acts. Drawing on all of his creative talents, he also began exploring acting for TV, film and theater. Growing tired of the New York grind, Andrew relocated to Florida, seeking opportunities as an artist, actor and musician, soon forming a new band with a more direct rock and roll approach and professionalism. The newly formed act; Arcane Substance, was soon playing local scenes and venues. Andrew was learning the ropes all over again. A solid relationship with two other musicians kept things going for several years. Their combined professional attitudes and creativity developed a rich collection of musical archives. andrew gained new experiences as lead vocalist, saxophone soloist, keyboardist and percussionist. With a bass and lead guitarist, Andrew hit the Florida scene with a new progressive rock sound that was becoming closer to the sound he had always envisioned. In the late 90's, Andrew decided on a new name that would capture the dynamic and expressive musical experience he was sharing with his fans. Thus the vision for Emotive was born, and before moving on to Arizona, Emotive enjoyed moments of modest fame in the bars, clubs, beaches and local radio shows of south Florida. Changes in additional members continued as the sound and vision progressed. The last ensemble version consisted of Michael Prisciantelli, Aybars Ocal, and Andrew Bearce. (below)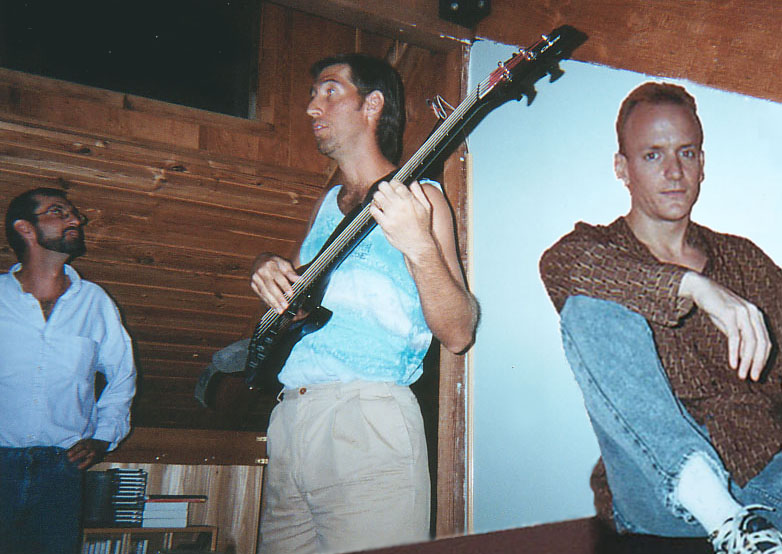 In April of 2001, Andrew made a bold move to Arizona in a Chevy van packed full of all his musical equipment, artwork, personal belongings, a mattress and a cat. The relocation brought the progressive rock sound of Emotive to the South West, where Andrew has single handedly recorded and produced brand new material for his debut CD, radio and internet broadcasts and new intense live performances. Emotive is now entirely performed, recorded and produced at ATB Productions Studio (aka The Purple Cave) owned and operated by the artist and his wife in Arizona. The scope of Andrew's extensive experience in art and acting has a dramatic influence on the music and performances, live or in the studio. Emotive is currently a solo act performance featuring the song writing, vocals, saxophone and all the instrumentation you can expect of Andrew Thomas Bearce, performing with occasional musical guests.
You are invited to hear and experience the explosive new sound of Emotive, coming soon to a venue near you!
Did you miss the link that gets you the music? Shame on you. Click here!
Thanks for stoppin' by. Hope you enjoyed your Emotive experience. See you at the show! ~ATB
Andrew Thomas Bearce
Vocalist
Saxophonist
Keyboardist
Guitarist and
Percussionist
Performs as
TM
Book a performance by Emotive. emotive.atb@gmail.com

ATB Productions also provides Fine Art Paintings, Graphics and Illustrations, in addition to sound tracks for TV, Film, Video/DVD, and Radio. Visit ATB Productions for more information on Andrew's visual art and acting careers.

Contact Emotive at: emotive.atb@gmail.com?subject=Emotive