"Self Portrait" This oil pastel painting combines the four elements of Air, Fire, Water, and Earth, with the portrait of the artist.There are metaphysical themes to many of Andrew's pieces. Size: Approx 18" x 24" Price: $350 w/ out frame or mat.
---
"Sleeping Dragon" is a stylish pen and ink illustration of a dragon catching a mid day nap, by the water side. His tail dips into the cool dreamy waters, as he puffs rings of smoke. There IS strength in peace. Dimensions: w/ frame: 14" x 16" Price: $600!
Prints may be available soon. Ask , if interested.
---
"Ghostwatcher" is a satirical portrait of a friend over looking the New River in Ft. Lauderdale, FL. It looks as if he's seen a ghost somewhere out there. In all actuality, the artist and his friend were on the look out for manatees, but Andrew decided to give the scene an ominous yet comical twist. Medium: oil pastels, Dimensions: 10" x 12" Price: Now $200.00 (n/frame)
---
"Saxual" is a detail of a much larger unique multi media illustration. It is a surrealistic montage of scenes, images and landscapes reminiscent of the artists style of drawing in his youth. In-fact many of the scenes reflect the artists experiences and interests while growing up. Perhaps there are scenes reflecting the future as well. It is a combination of ink, watercolors, markers and ballpoint pen on foam board. This same detail was selected for the current cover of EMOTIVE's promotional CD. Size: Approx 35" x 40" This piece has not been priced.
---
What can you say about a picture like "Bzartre"? It certainly is bizarre. This black and white drawing has heads morphing about a tree trunk, hence the phonetic hybrid title. It may also be a working drawing for a much larger full color piece, or mass printing...hmmmmm.
Medium: ink pen on paper. Not priced. (below)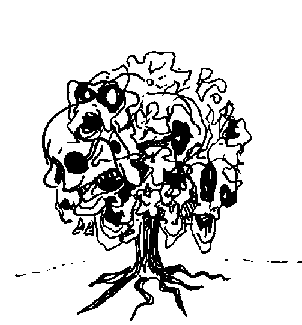 ---
"Necromantic" is a relic of a piece from the late 80's depicting a dark magician in the midst of conjuring the deceased, though he does not appear to be entirely of this world himself. There are a few things lurking in the background for the astute observer. Medium: pen and ink, Dimensions: 14" x 16' w/ out frame. Make an offer!
---
"Epilogue" is a large apocalyptic tempera and ink wash painting on paper, depicting the ascent of a white dove in four levels of suspended animation. Arising from the ruins of a city landscape, this dove reaches the sky in four stages. It is the hope and salvation of life after death, the survival of the soul. Size: Approximately 40" x 56" Status: Unavailable
---
Contact us at
emotive.atb@gmail.com
Sedona,
Arizona
USA