The Latest: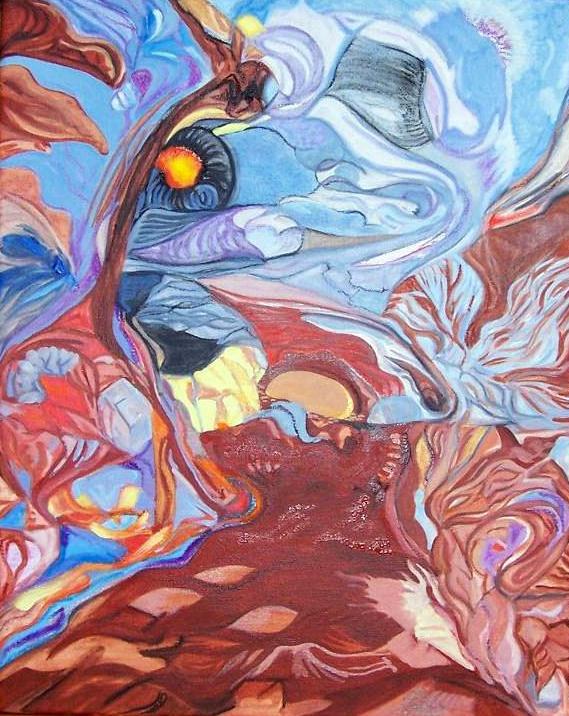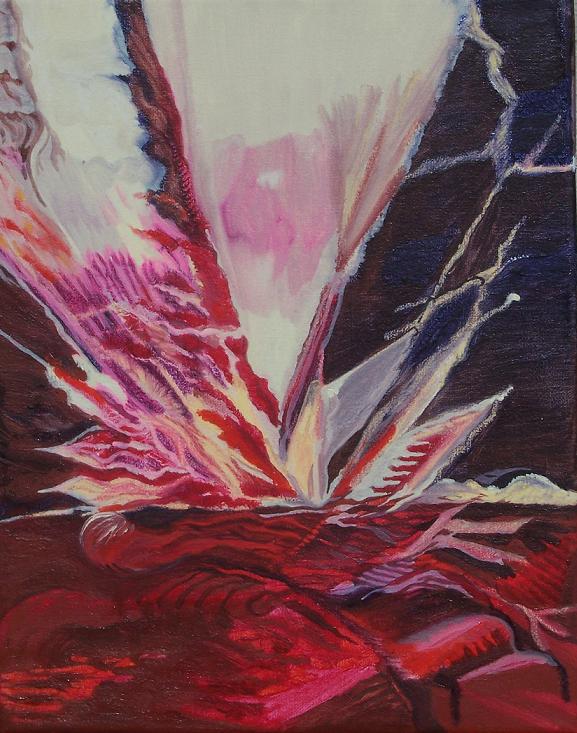 "Hidden Portals" $315.00 "Ignitiation" $165.00
Above, two of Andrew's latest paintings, "Hidden Portals" and "Ignitiation"
Below, "Symphony of the Ancients" painted live at Joey's Bistro in Sedona, 2008. These paintings and more are also available as prints. Follow link at top left of page to Imagekind. Contact ATB Productions to purchase the original through paypal or check.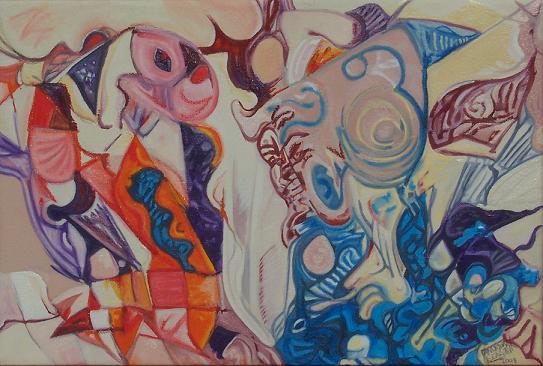 "Symphony of The Ancients" $225.00
"Immersion" SOLD!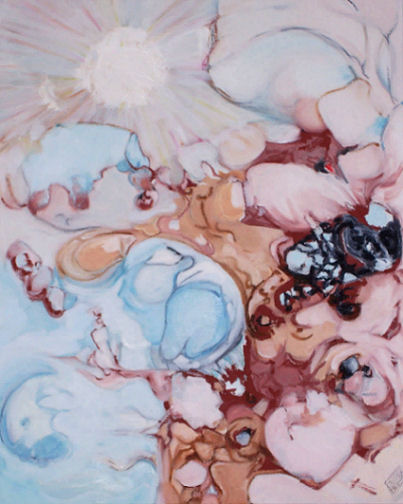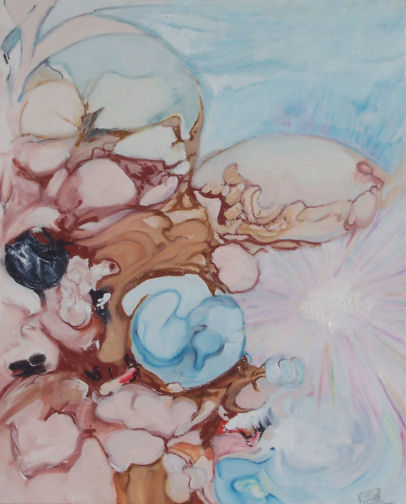 "New Beginnings" 1 and 2
oil and pastel on canvas, 16"X20" $300 each
These two paintings were created soon after the artist had relocated to Phoenix, Arizona, in 2001. Andrew had relocated to be with his bride to be, after many years of lost contact. The reunion inspired Andrew to also re-connect with his methods for painting which he had started in Florida during the early years of his career. His wife, Stephanie, came up with the name. There are strong earth and air qualities in these two paintings, perhaps influenced by the new desert environment, in contrast to the recurring water elements found in the preceding paintings.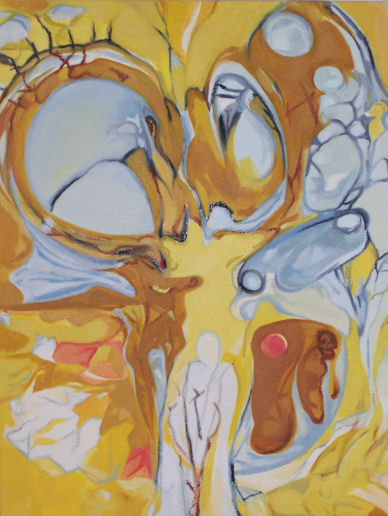 "Indian Summer"
oil and pastel on canvas, 28"X30"
A painting that started as a continuation of the imagery found in an earlier painting known as Solar Crystal, developing a life of its own. While the crystal like images remain to the bottom left, other images that seem to come from nature, like tree branches, rocks, and possible birds or animals take shape in a composition of equal quarters. The shapes resemble primitive glyphs, symbols or totems, and with the colors of the autumn season, the painting seems to take on new spiritual nature. Like most of Andrew's paintings, the title was decided after completion.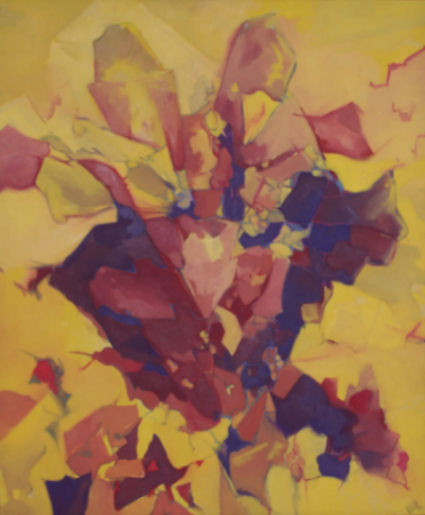 "Solar Crystal"
oil and pastel on canvas, 48" X 56" $800.00
Solar Crystal is a painting born of chance geometric designs and a palette of bright yellows, deep reds and crimson. It developed into a great crystalline form, radiating beams of light in every direction. The mineral world, like so many aspects of nature, is an inspiration to the artist's evolving themes. This painting, in many ways, initiated the artist's unique method and approach to abstract painting. It was one of the first to combine natural elements, using a combination of drawing and painting with pastels and oils. Many paintings sequentially followed this piece, continuing the development of the artist's original style and technique.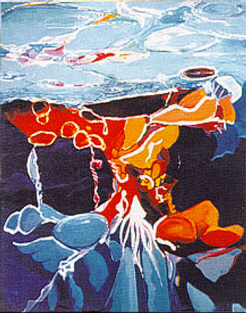 "Demiurge"
oil and pastel, 28" X 36"
A piece from the series after Solar Crystal, inspired by organic imagery beneath the ocean. This painting remained highly abstract with little reference to the natural world until the watery ripple effect was added above, as if looking up from under water. Another abstract image soon appeared to refernce a squid-like creature in the middle of the painting, firmly establishing an oceanic influence. The title makes reference to Plato's concept of a cosmo-genetic creative being. SOLD
"Magnamous"
chalk and charcoal on paper, 3.5'X4.5' $450.00
(requires mounting and frame)
Raw, chaotic and untamed energies find their expression in this early piece preceding the series of the more refined organic abstracts that the artist is known for. Perhaps this is what gives this piece it's character and appeal. A large piece in dry mediums.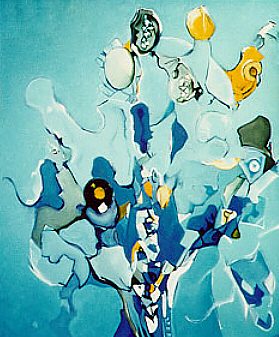 "Jigsaqua" oil and pastel, 48"X56" SOLD
Branch-like arms weave up into the surrounding space in a puzzle piece like fashion, connecting the open space above with the watery depths below. The title itself is an experimental combining and mixing of themes: jigsaw and aqua.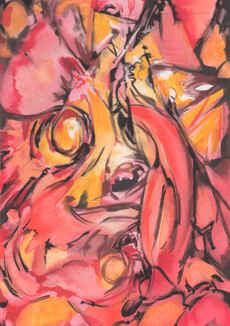 "Venom"
watercolor and ink, 12"X16" SOLD
The dynamic and vibrant energy of Venom is the result of the artist's unique abstract method applied through watercolors and ink. There are more visual surprises for the patient investigator.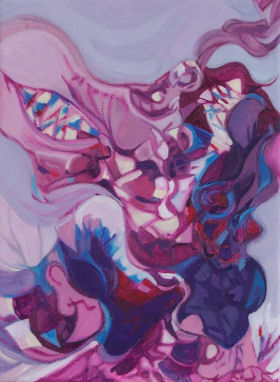 "Lost In Clarity" oil and pastel on canvas, 12"X16" SOLD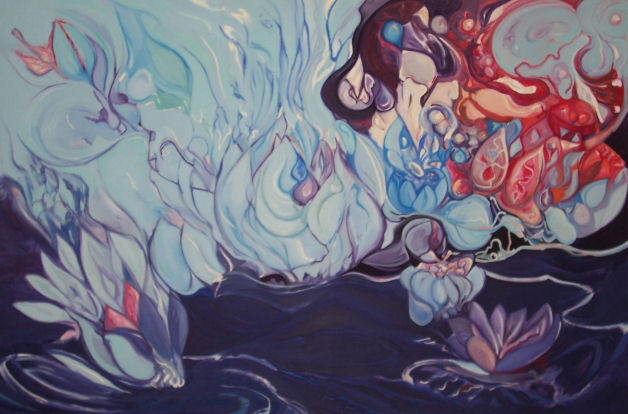 "Dancing Lotus"
oil and pastel on canvas, 4' X 6' $5900.00
This painting portrays the artist's true organic abstract spirit. An obvious reference to the inspirations of nature, one may recognize such representations as the dark waters, with the added spark of fire found in the floral plumes and tendrils of the lotus, with many visual surprises. The largest abstract painting by Andrew thus far began as a pencil drawing in the artist's sketch pad. The lotus may refer to interests in the religious philosophies of the East, as it is often found supporting Buddhas or Hindu dieties. The dance may refer to the dance of Shiva. The painting has become part of a private family estate, held in trust until the right bid may be made.